Frequently asked questions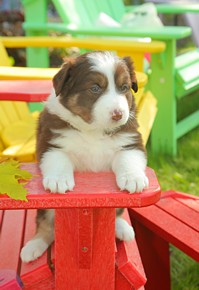 Here are answers to some of the questions we are most frequently asked. Please feel free to contact us if you need additional information.
1. What type of border collies do we breed?

We breed the family pet type of border collie, which means our dogs are lower drive, very friendly, love children, and have an off-switch. When we say lower drive, this does not mean no drive. Our dogs are naturally energetic, particularly when young, but are very suitable as companions and family pets since they are more laid back and do not demand to be constantly doing something.
Our dogs are very people oriented and have a strong need for human companionship and affection.
Although our pups do fine in recreational sports or herding, they are not appropriate for serious competitive sports or stock dog or sheep dog work as they simply do not have enough drive.
2. Are our puppies good with children?

Our puppies are very well socialized by our four daughters. They are held and played with a lot, are wrapped up like baby dolls, and are quite doted on by our girls. This, in combination with the great temperament of the parents, makes our pups extremely well suited for homes with children. We are told repeatedly by our customers that our pups blend in extremely quickly to their new home and family setting.
We do however say that if there are any behaviour or training issues with the young children in a family, these issues should be conquered before taking on a new pup.
3. What type of home do we like to place our pups in?

We look for homes that are well settled and stable with there being sufficient family support to care for the dog without there being prolonged periods with the dog being left alone. The family should be united on the issue of getting a dog and sharing in the dog's needs. Also, there should be a commitment to take the dog to obedience classes starting with puppy kindergarten. The individual or family should also be physically active enough to provide for regular daily exercise for the dog.
4. What type of home do we not like to place our pups in?

We do not sell our pups to young people who have not finished their education and are not sufficiently settled in life. It is all too possible that opportunities will open up after school that preclude having a dog or that just will not allow sufficient time for a dog.
We also do not place our pups into homes that do not have sufficient living space (ie. apartments) and yard space, and where the owners are simply not home enough.
5. What does our spay/neuter contract mean?

When you buy a pup from us you sign a contract in which you agree to spay or neuter your pup by the time she or he is 8 months of age. You are required to send us a certificate from the vet saying this was done.
The reason we sell on a spay/neuter contract is because border collies and border collie crosses are the number 1 breed to end up in rescue shelters. This is largely due to indiscriminant breeding that produces unstable temperament and poor health. We do not want any of our pups to become involved in such activities and thereby add to the problem.
6. What guarantee do we give on our pups?

We give a written 24 month genetic health guarantee. We do our best to help insure we produce healthy pups by only using dogs in our breeding program that are tested clear for hips and eyes and are fully healthy and structurally normal in all other ways.
7. How old should a border collie be before participating in dog sports?

We are often approached by serious runners who wish to obtain a border collie to be a running companion and go on long runs several times a week. Border collies are also the main breed people consider for doing agility, flyball and frisbee and thus have expectations to be able to begin such activities as soon as the dog reaches full size (7-8 months).
We need to clearly emphasize that border collies' bone and cartilage do not finish growing and maturing until a minimum of 18 months of age. Although the dog looks full size by 8 months and would more than love to throw himself into running, agility, flyball and serious frisbee, we do not recommend that such activities be undertaken until a minimum of 18 months of age. And when such activities are begun, they should be gradual and sensible.
Dog sports involve an incredible amount of jumping, landing, impact, twisting, braking, 180 degree turns etc.
We will not place a pup into a home where the dog will be expected to do long distance running. Sports injuries would be inevitable. We have had numerous people approach us with the full expectation of taking their dog on 16 km or longer runs on a regular basis. We cannot condone this.
8. What is crate training and why do we recommend it?

Crate training is the practice of putting the pup into his crate for nighttime, anytime the pup cannot be supervised and when the pup needs time-out. This insures the pup is safe when alone and will also not damage the house and furniture. It is the rare pup that does not enjoy his crate. It is his own space with water, food and toys.
Once the pup has grown up and reached the "age of responsibility" and no longer has the urge to chew things, you may consider foregoing the crate if desired.
We recommend wire crates (rather than plastic) for home usage as these offer full ventilation and view so the pup is in a more open area rather than a darkened environment in a plastic crate. The best size is the 42" length ones so that it will still be big enough when the dog is full size.
9. How often do we breed our dogs?

Once a bitch has passed all her health clearances, has had at least one heat, and has reached the age of 18 months, we may breed her in her next heat. If we are pleased with the quality of pups she produces, we will usually breed her again in her next cycle. Then the decision is made once again according to the health and vibrancy of the pups and the quick recovery of the mom. We will often breed a bitch several times as long as our vet approves and all our pups are strong and vibrant. (We have yet to ever produce weak or poor quality pups, as all our customers can attest).
It is often thought that dogs should not be bred each heat cycle, even though they, and all animals, do so naturally in nature.
Animals are made to breed each cycle and we have found that our dogs are doing remarkably well under such a practice. We do not always breed every cycle, but do breed two or three times consecutively before skipping a cycle.
Our dogs are vet checked frequently and have, bar none, received outstanding checkups by our vets. They are in wonderful health and are extremely happy. Also, our puppies continue to be very vibrant, both physically and mentally. Our vets have told us that they enjoy checking our pups because they are so well bred and raised.
We feed raw dog food to a number of our dogs according to if they are expecting or building up after a litter, and to some dogs full-time. They are given natural remedies and holistic supplements to maintain their health (we manufacture and sell these supplements). All our dogs are cleared for hips and eyes and we don't allow any dog to be in the breeding program if they have any health or genetic issues.
It is odd how the conception that dogs should not be bred repeatedly came about. All livestock animals are bred each cycle, yet no one accuses the farmer of being a "puppy mill" with regards to his cows, sheep etc. Few people realize that cows are bred about 2-3 months after they give birth and are pregnant during much of their lactation. But they are made to be bred each cycle.
And we can assure people that our dogs are cared for much better than the majority of cows, pigs and chickens these days that never see the light of day (most livestock these days are housed indoors for their entire life).
We have completely fenced all of our property so that our dogs have free run in very large areas (the largest area being over an acre) and do not spend much time in kennels or crates except at night. Plus they are a part of our family and have their emotional and social needs met by playing with our children and being with us. They are not livestock. Our dogs are very people-oriented and have a strong need for affection and love. This is freely supplied and they are thriving because of it. We truly enjoy our dogs. But that is not hard to do since our dogs are so easy to live with.
10. How does the choosing of the puppies work?

The customers decide which litter and which gender they wish. They go on the reservation list according to the order they put down their deposit.
Once the puppies are 6 weeks old they are old enough to receive visitors. This is when our customers come out to meet the pups and make their choices. The choosing goes according to place on the reservation list. For example, if the person is second on the list for a male, he gets second choice of the males in the litter.
11. Where are our puppies born and raised?

Our pup are born and raised in our house. They have constant interaction with us and are played with regularly by our 4 children.
12. How old are our pups when they go to their new homes?

Our pups are 7 ½ - 8 weeks old when they are ready to go to their new homes. They are vet checked at 7 weeks.
13. What have the pups received by the time they leave us?

When the pups are ready to leave they have been vet checked, micro-chipped, de-wormed (two sessions with Panacur), had first set of shots, and have been very well socialized in a home setting by our children.
The first set of shots is for distemper, parainfluenza, adenovirus, and parvovirus. The customer receives the vet record for their pup.
14. What do we feed our dogs and pups?

We use Costco's Kirkland Signature Lamb and Rice dog food and Kirkland Signature puppy food. Both are high-end kibbles with holistic ingredients and no by-products or fillers.
We also use Orijen grain-free, low-carb kibble. This is a fantastic, all-Canadian product (www.orijen.ca) which is made from fresh, locally sourced, human grade ingredients and is low-temperature cooked.
We give our dogs North Atlantic herring oil (for coat, skin and immune system), organic unpasteurized apple cider vinegar (for digestion and as an excellent mastitis preventative), kefir (natually fermented dairy product for intestinal health), and kelp (trace minerals).
Our dogs also receive natural remedies as needed, which we produce ourselves (www.woodlandnaturalremedies.com).
15. Which registry do we register our pups with?

Our pups are registered with the Canadian Border Collie Association. Border Collies cannot be registered with the Canadian Kennel Club since the Canadian Animal Pedigree Act states that in Canada there can only be one registry for each breed. The Canadian Border Collie Association has been granted that privilege, which is most appropriate since it is a registry which promotes the border collie as a working breed.
16. Can I show my dog for conformation?

No. We do not breed show dogs and our dogs are not to be used for showing. Plus the spay/neuter contract must be honoured and this thus precludes showing (to be shown a dog must be intact).
We breed for health, temperament, intelligence and balanced structure. Realistically, border collies can no longer be solely bred for work, since there obviously is not enough work anymore for border collies. But there is still a place for smart, biddable border collies in active homes where they can provide loving companionship and plenty of enjoyment in recreational activities.
History has more than proven that animals who are bred for beauty and to conform to a breed standard in order to win competitions, of necessity will have their health and function compromised to achieve that end.
17. Can I leave a blanket with you so our pup will have an easier transition to our home?

Please do not bring a blanket or toy to leave with us. This is an old wives tale about having the mother's smell on something so as to comfort the pup after he leaves. Pups quickly forget about their moms and siblings once they are in their new home (this is the normal course of nature). Having something remind him will only tease or confuse him and prolong the transition. Also, for bio-security reasons, we do not allow outside things from other people into the litter as the other pups will come into contact from germs from your place.
Russ and Tracey Salamon and family
Tillsonburg, Ontario
burhillbordercollies@gmail.com